LIZA CODY NEWSLETTER September 2012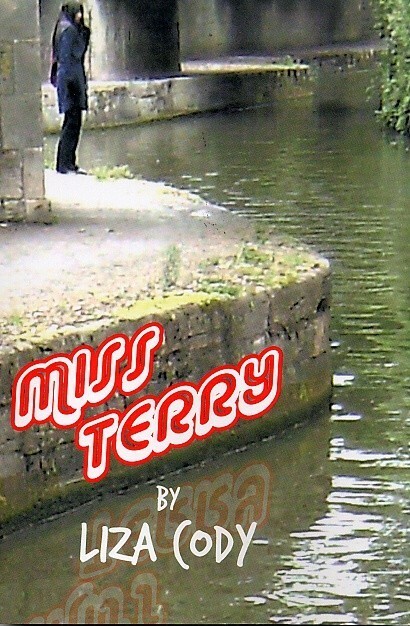 September 21, 2012
I was going to send you this newsletter anyway but it turns out that I should have done it in August. If only I'd known.
I'm writing now to announce a brand new novel called MISS TERRY. It's available, or will be shortly, from online retailers including iUniverse in hard and soft cover and inexpensively in all e formats. Take a look wherever you shop online or hustle your local bookshop. I'll also update my website as I get more information.
MISS TERRY is my first (sort of) thriller, about the threats to and pressures on outsiders in British society – an area that's very close to my heart. Miss Terry – actually Ms Tehri – is trying to be a modern young woman, living independently in a city centre. She's only just learning to be strong – a skill she'll need in spades by the end of the book.
And maybe you'll be interested in the photograph used for the cover – which I've included in this newsletter. See that scared-looking woman in the distance who is standing too close to the winding, angular, dangerous water's edge? That's me, in the most uncomfortable wig imaginable. Oh, the sacrifices we make for our art. And if you can't see the picture here at least you have the inside story when you look the book up elsewhere.
But why should I have written to you in August? Well, it turns out that's when Bloomsbury, the British publishers, put MONKEY WRENCH and MUSCLEBOUND (the second and third Eva Wylie books) out in electronic formats. And then a couple of weeks ago they also put out BUCKET NUT (the first Eva) and GIMME MORE, the rock'n'roll mystery.
It seems that these days publishers can publish without telling the writers, so I didn't find out about any of it until yesterday. I feel like an idiot – being the last to know. But there you are. I found out yesterday and I'm sharing today.
But they're out there if you're electronically interested and I'm delighted that they're available. I've (tried to) put the links to the Bloomsbury sites below, which offers them for Kobo, Google Play, and Apple as well as Kindles.
That's the publication information. But those of you in England's West Country might like to know that I'm making a rare public appearance, sharing a panel with my old touring friends Peter Lovesey and Michael Z. Lewin. We're appearing at Warminster (Wiltshire) Library on 18 October at 2.30. It's part of the Warminster Festival. We'll be talking about 'Our Life in Books' which I think means what we really enjoyed reading as kids – what turned us on to books when we were young and impressionable.
As for work in progress, I'm in the middle of the 2nd of two novels about a bag lady and her dog – even more glamorous than my usual choice of subjects – but full of excitement, wisdom, insight and spelling mistakes. The dog, however, is wonderful. The first of the novels will be the next that I publish. When that happens expect another newsletter…
But meanwhile I'm also writing a short story with, as a central theme, a grizzly bit of folk lore called 'The Hand of Glory'. Body parts and a naïve policewoman – what could be better? I heard the original hoary gory Glory story in Robin Hood's Bay, near Whitby in North Yorkshire where I spent 5 idyllic days on the most stunning Jurassic coastline among rock pools, fossils, the photographs of Frank Sutcliffe, and, yes, creepy tales.
Another story – 'I Am Not Fluffy' – will appear in Ellery Queen's Mystery Magazine. When I know the month of publication I'll post the information on my website. Or you could follow me on Twitter: LizaCody. No folk lore in Fluffy but the story's not, well, fluffy… It's set in the glamorous world of seaside town prostitution. Write about what you know, eh?
Links to the Bloomsbury pages for the e books:
Bucket Nut:
http://www.bloomsbury.com/uk/bucket-nut-9781408837221
Monkey Wrench:
http://www.bloomsbury.com/uk/monkey-wrench-9781408837306
Musclebound:
http://www.bloomsbury.com/uk/musclebound-9781408837313
Gimme More:
http://www.bloomsbury.com/uk/gimme-more-9781408837245