Liza Cody Newsletter Number 2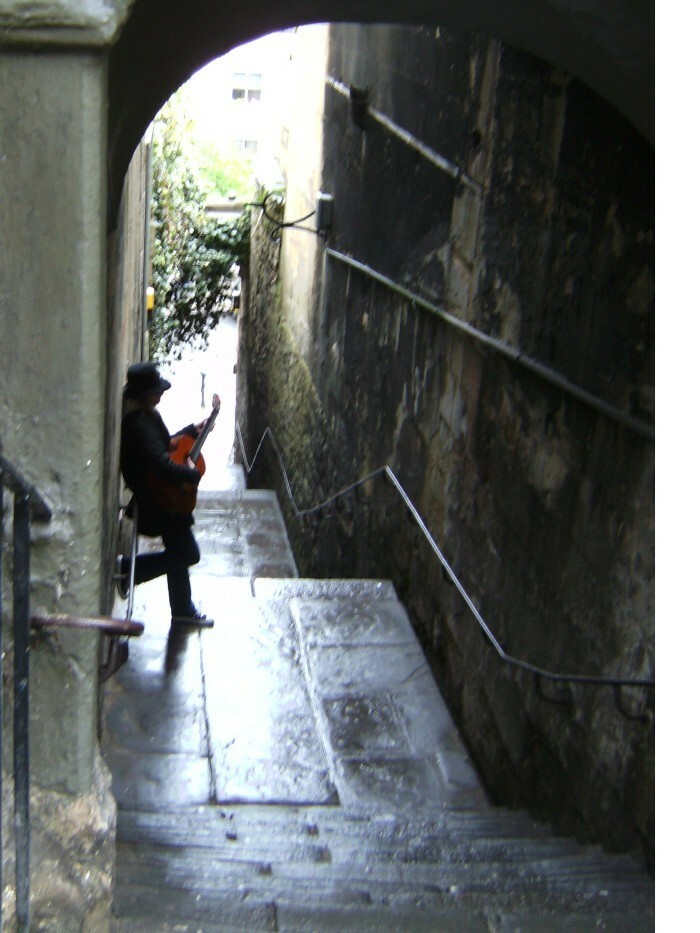 June 10, 2011
I promised that a newsletter from me would be a rarity - and so it is.
My big news is that a new book (not a republished old one) is now available from Amazon, Barnes & Noble and can also be ordered from all good booksellers, in hard and soft cover. In the next month or so there will also be an electronic version on kindle, nook and several other platforms – all for the wonderfully low price of $2.99. (I suppose I'm coming to the conclusion that e publishing should not keep prices artificially high in order to protect paper publishing. I love real books, of course I do, but I love readers more.)
The new book's called Ballad of a Dead Nobody and it's supposedly about the research that goes into the biography of a young singer/songwriter who was murdered in a particularly horrible way 20 plus years ago. So I've gone once more to music as a theme and background. 'This could be the last time, I don't know.'
You might be interested to learn that the cover photo was taken by Michael Z Lewin (a very fine writer - read him) and designed by both of us. The grainy little person in the distance is me. It was supposed to be of a 15 year old busker. We couldn't find one, but we thought if Mike was far enough away and provided enough camera shake we might just get away with it. Anyway I liked the result and we both thought the picture was suitably moody. The guitar belongs to Mike. He can play it - I was just pretending.
Getting Ballad ready and out there was a long tortuous procedure. The day I finished turned out to be the first bright sunshiny day after weeks of grey wind. So I celebrated by going for a day trip to a seaside town called Ilfracombe in north Devon - a gorgeous but treacherous piece of coast. I did all the seaside things I love - wading in the water, climbing the headland, eating fish and chips, watching people on holiday (but not donkey riding or wearing a 'Kiss Me Quick' hat). Just before leaving I sat on a bench with a thermos of tea watching the waves crash on the rocks and I thought what a perfect way it was to clear my mind. So I wrote a haiku about exactly that moment.
Old wreck on a rocky coast -
Seagull screams, dog barks, hot tea -
Contentment.
In this case, the 'old wreck' is me not pretending to be a 15 year-old busker but just as I am – relieved to have finished a long hard piece of work.
I'm now on Twitter. I thought I'd try my hand at viral marketing but it's a dead loss – I don't know how to do it and at the time of this viral marketing I've got exactly two (yes two) followers. Deep frustration.
In case I've tweaked (not tweeted) your interest in the new book I've added a sample from it below. And either way, I hope you have a lovely summer. Or winter if you're in the southern half of this weird and wonderful world.
Liza
10 June 2011
Sample from BALLAD OF A DEAD NOBODY:
Carol's Story.
I should really write all this down before some nosey parker does it for me. If there's money to be made telling our story I want to make it. I was there for most of it, and even if I wasn't, twins are supposed to be telepathic.
I'll begin on the first evening after he left prison, when he was looking for the heart of Saturday night, and dipping in and out of bars. He drank straight rum – one shot in each bar – searching for a scene, the Saturday night you dream about when you're inside
Down to small change, talking to a girl who wouldn't give him the time of day when she found out he was broke, Tom saw his new career.
The girl was saying, 'Only whores and sailors drink rum,' and Tom was smiling at her with great attention, because although she was boring she was the only game in town. That's what he's like. He wasn't listening, but behind her he saw a child climb on to the small stage. An urchin in a baseball cap. Way too late for a kid that age to be up and about. Way too young to be hanging around an after-hours club.
The canned music ceased, the kid stood behind a keyboard and the nondescript bar suddenly turned into a scene. The kid blew him out of his socks. It was honky-tonk piano at its fastest and most ferocious. Guys and girls who'd been hanging out looking tired and flaky crowded the tiny dance floor and bopped. People tipped back their drinks and tapped their toes. Even the barman began to look happy.
'Who?' Tom asked.
'Elly,' the girl shouted. 'She's a phenomenon.'
The kid was a girl with dancing fingers. But that was not all. Elly took requests. Any requests. If she'd heard it, she could play it. Sometimes she sang it too, but mostly it was the punters who sang.
"A beer mug sat at the kid's feet. Throw a couple of quid in the mug, and you could ask for a tune. For a few quid more you could belt out whatever in whichever key suited you.
'"Redemption Song",' someone pleaded.
'"Say, Say, Say", but lower and slower,' asked someone else.
'"Blueberry Hill".'
'"Material Girl".'
Songs from every decade, every genre, tumbled out – songs so old they had white whiskers. Songs so new they could only have had a couple of radio plays in their short lives. Blues songs, torch songs, gospel, rock, punk, every fantasy catered for. Even Tom's Saturday night search rested with Elly's dancing fingers.
'How old is she?' Tom asked.
'Dunno,' the girl said. 'You want to go on somewhere else?'
'In a minute,' Tom said. But the next time he looked for her, she was gone.
He watched the beer mug fill to the brim with coins and notes. He watched the barman exchange it for an empty one. Hungrily he watched that fill too. Elly was a money maker. She resembled a small boy – with knobbly knees poking through torn jeans and needle sharp elbows jutting like chicken bones from an older brother's shabby tee-shirt. The cap was pulled down to her nose and Tom could barely see the gleam of her eyes. Strong white teeth, he noted, because all that was visible of her face was her froggy smile.
'You going to get up there?' asked the man who sang 'Yesterday,' still fizzing from his success.
'No way,' Tom said, 'I'd rather cut my tongue out with a rusty knife.' Because of course my brother cannot sing a note, any more them I can. And besides, only hours ago he'd been locked up in a place where singing was the last thing on his mind.
Tom wasn't going back. Never. All he needed was a start – a stake in a legit game. He looked at Elly, looked at her pint pot of money, and thought – this is it. See, I know my brother, and whatever anyone else says, froggy girls are not a turn-on to him, but money-makers are.
'You need an escort,' he said later, in the early hours of Sunday when they were both the only ones on the street outside the club.
'I'm older than I look,' she said, drawing herself up to a staggering five-foot nothing. 'It's a pituitary problem.'
While they walked they talked and by the time they reached her house, Tom had Elly down as tragically inarticulate, a lover of dogs and mankind in general, an idealist and a pushover. In short, a musician.
He walked away with a fistful of fivers stuffed up his sleeve. Like robbing the blind, he thought, but don't sweat, Elly, you'll get it back times a hundred. He always thinks stuff like that because the one he lies to most is himself. And Elly, she gave him that big brown stare and believed every word.
The next day she tripped down the steps of an old institutional building and landed in a heap at his feet. She was like that, he discovered. For a girl with smart fingers she was one of God's clumsy children. Her feet were too big for her size and she didn't pay attention to anything she couldn't play a tune on. With doors, she pushed when she should have pulled. She tried to shove the wrong coin in the wrong slot. She turned keys left when they went right and tightened taps when she wanted water. Elly struggling with the man-made world would become a familiar sight. And Tom rejoiced because in small ways she was so very easy to help and in large ways she was so very gullible.
She sat on the bottom step laughing at herself, brushing dust off her jeans, retying her laces, stuffing a mop of hair back under the baseball cap. Behind her a flock of little girls in bright coats and scarves spilled out of the building and ran past her. 'Bye, Elly,' they carolled, 'see you after Christmas. See you in the New Year. Bye.'
'School?' Tom asked, puzzled.
'Ballet class. I play for them.' She laughed again. 'It's not much, but it's a job.'
'Have you eaten?' He wanted to take her somewhere in the West End. Somewhere classy to impress her. But now that he saw her again he thought that somewhere classy wouldn't let her in.
She wheeled around and fell into a Turkish burger bar. Not what he had in mind at all.
'Hello, Li'l Elly,' said the moustache behind the counter. 'Yer usual?'
'Hello, Li'l Elly,' said the moustache behind the grill. ''Ungry, baby? Double cheese, no?'
'Hi, yeah, double everything. This is my friend Tom.'
'Gotcher se'f a boyfriend, Li'l Elly? Ha-ha. Wha'lit be, Mr Tom?'
'Just a coffee,' Tom said, noting the state of the counter, despairing at the greasy aprons, praying his meal ticket wouldn't die of food poisoning before she signed the contract he hadn't yet drafted.
'Loads of fries, Li'l Elly?'
'Oh yes please. You can share my fries, Mr Tom.'
Tom was good: no one saw him shudder when he took fries off Elly's paper plate. Mushy fries should have been a thing of the past for him. Top of the heap was his direction now. Silver. Porcelain. Fillet steak and no canteen queues. Failure sounds like a plastic spoon on a plastic plate. Success is the Irish linen tablecloth and a man in a waistcoat saying, 'Medium rare, sir?' And I couldn't agree more forcefully.
Now he's pinning his dreams on phenomenal Li'l Elly who pulls when she should push and shares her mushy fries with a man who has his pocket full of purloined pounds. He refuses a bite of her double-cheese, double-grease burger and she thinks he's a gentleman.
'What I need,' he says instead, 'is your signature on these papers to show whomever it may concern that I am your legal representative.'
'But the pages are blank,' she says, pen in hand.
'I haven't written the agreement yet, but we are agreed, aren't we?'
'Oh yes, thank you.' And she writes Ellena Perdita Astoria left-handed, slowly.
'Initials spell APE backwards,' she says shyly. She writes Ellena Perdita Astoria on six sheets of blank paper which is all Tom put in his brand new cool letter case.
It was a defining moment, as he told me afterwards. 'I'm going to make her fortune,' he said by way of an excuse. And with his hands in his pockets, her pockets, caressing his cash, her cash, he believed himself with absolute sincerity.
'She's too naïve to live,' I said.
'She only has to be smart at one thing,' Tom informed me with his sturdy cockiness. 'I'm clever enough for both of us.'
'Is that so? How do you know there isn't someone with a prior claim? How do you know she hasn't signed APE backwards for half a dozen business managers?'
'Don't bring me down.'
I pressed my advantage. 'You see a froggy phenomenon. Are you the first to see her? You walk her home and right away she trusts you. Are you the first she trusted? Girl like that, if she's a pushover for you, she's anybody's. Thought of that, my lad, or am I being too clever for both of us?'
'Carol,' he pleaded, 'don't be jealous. Be happy I've got plans. I'll cut you in. We're family. We're all we've got.'